2020 season posted August 15th
2019

New York, NY

January 13, 2019

Sunday Guitar Seminars
The Music of Rev. Gary Davis
info & registration
FULL, please email for wait list


New York, NY

February 10, 2019

Sunday Guitar Seminars
Country Blues & Beyond
info & registration
FULL please email for wait list


Pomeroy, OH

May 17-19
2019


Fur Peace Ranch
info & registration
FULL, please email for wait list


Buxton, England

June 21-23, 2019

Buxton Guitar Retreat
info & registration
FULL, please email for wait list


Brattleboro, Vermont

July 12-14, 2019


Sunset Lake Guitar Retreat
info & registration
FULL, please email for wait list

Arezzo, Italy

August 28- September 1,2019


Int. Tuscany Guitar Workshop
info & registration
registration open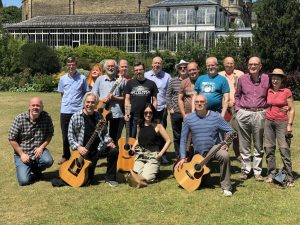 Buxton, England
Arezzo, Italy
Brattleboro, Vermont
---
Video library of country blues styles and modern fingerstyle repertoire.
Curriculum tracks & technique classes for beginners to advanced students.
Easy to use website keeping the focus on music and learning.
One to one private video exchange or study on your own.

---
---
---
Berklee College of Music Country Blues program info for Berklee Students
---


NYC recital. Surrounded by talented players and a
room full of my signature Martin guitars. Had to take a photo. Honored!