Fingerstyle Blues and Beyond
June 23- 25th, 2017


Buxton, England
Beautiful historic setting in the Peak District of Derbyshire /
Individual instruction / Student performances / Inclusive & non-competitive /
The Buxton workshop will focus on practical approaches for developing technique and learning new repertoire from the early country blues masters to modern fingerstyle compositions. Our site for the weekend is the historic The Old Hall Hotel in the spa town of Buxton, in the heart of the Peak District in Derbyshire, England. The focus will be on developing a practical "toolbox" of techniques and and understanding the logic of the fretboard and what you are playing. The concepts will be illustrated through learning a wide-ranging repertoire of tunes including the arrangements of Reverend Gary Davis, Blind Blake, Lonnie Johnson, Eddie Lang as well as Woody's original compositions. Some of the ideas covered will be syncopated picking, creating chord melodies, playing in open tunings, and ways to develop your own sound and create variations within a tune. Also covered will be practical exercises for understanding the fingerboard, organizing your practicing and ways to develop your own sound.Woody will break down the complexities and illustrate how the techniques of traditional country blues form the basis for other styles including gospel, jazz and contemporary sounds.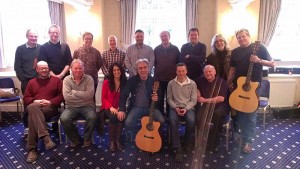 There will be an emphasis on solo performance technique and playing in a group with plenty of chances to perform. Saturday evening there will be a student concert. In addition to the scheduled morning and early afternoon sessions, there will be informal workshops and individual instruction. The workshop is open to various levels of playing ability but students should be familiar with the very basics of picking and be able to play a few tunes. Enrollment is limited.
The Old Hall Hotel is the perfect location to create the relaxed an creative environment necessary for learning and taking chances. The weekend is designed as a compliment to my previous workshops with new material that will challenge return students as well as new attendees. This is a hands on practical workshop for people who want to take their music to the next level and learn some great tunes in the process. Please feel free to email me if you have any questions. See you in Derbyshire for this always very special musical weekend retreat. Keep playing! Woody

---
Schedule
Friday
Afternoon Arrival / check in. Orientation meet & greet at 6pm
Saturday
10 am- 6 pm.
9pm- 11pm Performing, jam session
Sunday
10 am – 5pm
Location
The Old Hall Hotel, The Square, Buxton, Derbyshire, England. SK17 6BD
Tel: +44 (0) 1298 22841 www.oldhallhotelbuxton.co.uk
Accommodations
Participants must book their own accommodations. The hotel has has offered us a very good special inclusive rate for the weekend. Please email Emma Potter at the hotel for details. Do book early. There are many other B&B's and hotels in Buxton within walking distance to the workshop.
Tuition
£375 Pounds Sterling
Includes all materials, recordings, Friday Dinner, Saturday and Sunday lunch.
ONLINE REGISTRATION
Once you are registered you will receive a confirmation email with additional information.
problems registering? please email us
If you would like to be added to the workshop email list, or the wait list, please email us

We look forward to meeting everyone – Woody and Valerie
---
Friends from past Buxton workshops….