The Music of Lonnie Johnson
March 12, 2017
New York, NY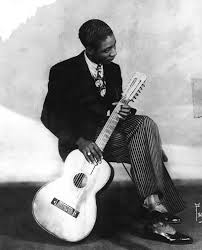 This workshop is devoted to learning the guitar styles and techniques of the Lonnie Johnson, one of the most gifted and original guitarists in blues and jazz. I'll be teaching some of Johnson's most famous compositions and and breaking down his complex technique into a practical "toolbox" to use for playing his music and for your own improvising. The focus, as always, will be on understanding what you are playing and ways to create variations within a tune by playing off the chords and using syncopated picking ideas.  Johnson's playing represents some of the most sophisticated and elegant guitar work and the "bridge" in many ways between country blues and early jazz styles.  This is a workshop for guitarists who can play the basics of fingerpicking and understand basic chord positions. Space is limited.
Schedule
SUNDAY,March 12, 2017
1-6PM
Location
The location will be in Midtown Manhattan.
Once registered you will receive complete details and how to prepare for the workshop.
Tuition
$300.00 USD
Includes all materials; music and tablature, audio and video recordings
REGISTER ONLINE

Once registered you will receive a confirmation email with the address, contact numbers, as well as additional information for preparing for the workshop. 
Please email if you have any questions.